Verbal Expression of Preparedness in Retirement Planning Interviews
Liudmyla Mahdysiuk

Lesya Ukrainka Volyn National University, Ukraine

Halyna Tryhub

Lesya Ukrainka Volyn National University, Ukraine

Tamara Duchiminska

Lesya Ukrainka Volyn National University, Ukraine

Anna Kulchytska

Lesya Ukrainka Volyn National University, Ukraine

Larysa Zasiekina

Lesya Ukrainka Volyn National University, Ukraine
Keywords:
preparedness for retirement, retirement planned interviews, conceptualization, psychological meaning
Abstract
Conceptualization of retirement requires interdisciplinary research, which is represented by psycholinguistic approach in the present paper. The study takes a first step to explore conceptualization of retirement by individuals with different levels of retirement preparedness. The study applies questionnaire Psychological Preparedness for Retirement (Zasiekina & Mahdysiuk, 2018) to assess levels of preparedness; semi-structured interviews to focus primarily on concerns related to planning postretirement period; Linguistic Inquiry and Word Count (LIWC) (Tausczik & Pennebaker, 2010) to reveal psychological categories and explore conceptualization of retirement.  By the end of the assessment, data had been collected from 117 workers who were at preretirement period. The sample was weighted by age and occupation in order to improve its representative of the total population 22 (18.8%) – university staff, teachers at colleges, 18 (15.4%), nurses in kindergartens, 8 (6.6%), healthcare staff, 18 (15.4%), government officials, 28 (23.9%), workers from private sector, 23 (19.7%). The final weighted sample includes 65.8% females, average age 54.52, (SD=6.21). The results indicate that 8.5% respondents have a low level of preparedness, 61.5% - a medium level of preparedness and 30% - a high level of preparedness. Interestingly, the highest percentage of categories of affect and positive emotions were observed in the group with a medium level of preparedness, whereas the highest percentage of categories cause, focus on present, and family were captured in the group with a high level of preparedness. Taken together, these results suggest that the high level of retirement preparedness is associated with active cognitive reappraisal of retirement as a period of family activities.
References
Astuti, D. (2020). Readiness in retirement life. SHS Web of Conferences 76, 01004. https://doi.org/10.1051/shsconf/20207601004
De los Santos, J. A. A., Labrague, L. J., & Milla, N. E. (2019). Happiness and retirement readiness among pre-retiring employees: a cross-sectional study. Ageing International, 45, 85–98. https://doi.org/10.1007/s12126-019-09351-z
Park, S. M. (2017). The gendered impact of the National Pension Scheme on late-life economic well-being: evidence from the Korean retirement and income study. Quality in Ageing and Older Adults,19(1), 3-13. https://doi.org/10.1108/QAOA-09-2016-0039
Osborne, J. W. (2012). Psychological effects of the transition to retirement. Canadian Journal of Counselling and Psychotherapy, 46(1), 45-58.
Tausczik, Y. R., & Pennebaker, J. W. (2010). The psychological meaning of words: LIWC and computerized text analysis methods. Journal of Language and Social Psychology, 29(1), 24-54. https://doi.org/10.1177/0261927X09351676
Victor, C. R. (2013). Old age in modern society: A textbook of social gerontology. Springer.
Wang, M., Olson, D. A., & Shultz, K. S. (2012). Mid and late career issues: An integrative perspective. Routledge.
Wang, M., & Shi, J. (2014). Psychological research on retirement. Annual Review of Psychology, 65, 209-233. https://doi.org/10.1146/annurev-psych-010213-115131
Wang, M., & Shultz, K. S. (2010). Employee retirement: A review and recommendations for future investigation. Journal of Management, 36(1), 172-206. https://doi.org/10.1177%2F0149206309347957
Zasiekin, S., Bezuglova, N., Hapon, A., Matiushenko, V., Podolska, O., & Zubchuk, D. (2018). Psycholinguistic aspects of translating LIWC dictionary. East European Journal of Psycholinguistics, 5(1), 111-118. https://doi.org/10.29038/eejpl.2018.5.1.zas
Zasiekina, L., Mahdysiuk, L. (2018). Psykholohichna hotovnist osobystosti do vykhodu na pensiyu [Individual Psychological Preparedness for Retirement]. Lutsk: Ivaniuk.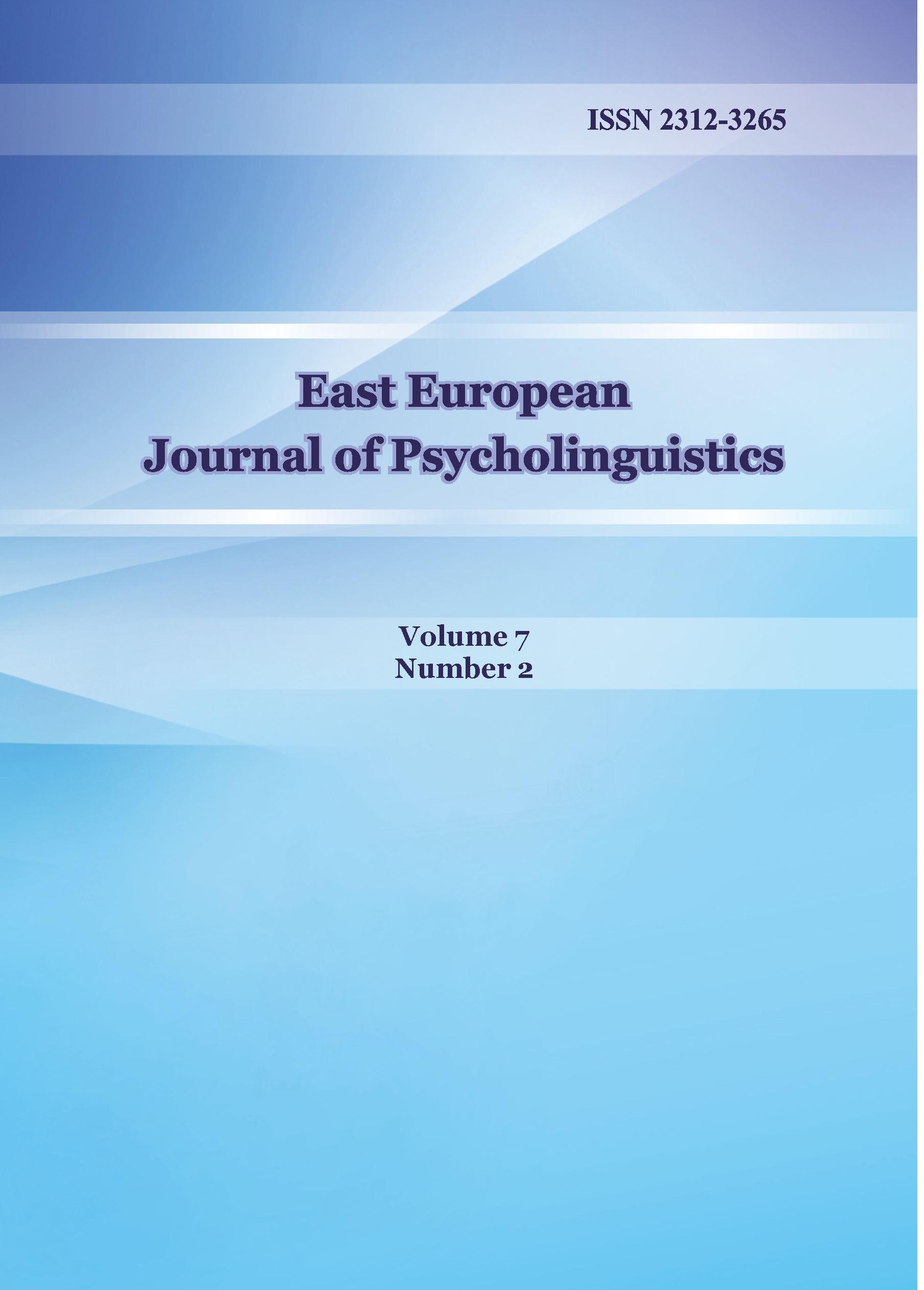 How to Cite
MahdysiukL., TryhubH., DuchiminskaT., KulchytskaA., & Zasiekina L. (2020). Verbal Expression of Preparedness in Retirement Planning Interviews. East European Journal of Psycholinguistics , 7(2). https://doi.org/10.29038/eejpl.2020.7.2.mah
Section
Vol 7 No 2 (2020)