Acquisition of Turkish Grammatical Categories in Bilingual Context
Keywords:
Turkish, mother tongue, bilingualism, Bulgaria.
Abstract
The paper presents results form a study on acquisition of Turkish grammatical categories by first grade Turkish speaking minority children in Bulgarian primary school. Two groups of children speakers of Turkish are tested: ethnic Turks and ethnic Roma. The Roma are Muslims and are also speakers of Turkish. Both groups speak the Northeast variety of Turkish, spoken in the surroundings of Varna, Bulgaria. The author examines the lexical reaches, syntax complexity and narrative knowledge of the children and predicts that the low results on mother tongue tests will be a reason for difficulties in the second language acquisition - Bulgarian. The author connects the results of mother tongue knowledge of the children with the language interdependence theory of Cummins (1991), where the level of  the mother tongue is  a predictor of second language acquisition.
References
Aarssen, J. (1994) Acquisition of discourse anaphora in Turkish children's narratives. VII International Conference of Turkish Linguistics. Mainz.
Akıncı, M. (2016) From emergent bilingualism to biliteracy competences of French-Turkish bilingual children and teenagers in France. The Future of Multilingualism in the German Educational System, Berlin, March 3-4.
Aksu-Koç and Slobin (1985) Acquisition of Turkish. In: The Crosslinguistic Study of Language Acquisition: Vol. 1. The Data, (pp. 839-878). D. I. Slobin (Ed.). Hillsdale, NJ: Lawrence Erlbaum Associates
Aksu- Koç, A. (1994) Development of linguistic forms: Turkish. In: Relating Events in Narrative: A Crosslinguistic Developmental Study. R. Berman and D. Slobin, (Eds.). Hillsdale, NJ: Lawrence Erlbaum Associates.
Boeschoten, H. (1990) Acquisition of Turkish by immigrant children: a multiple case study of Turkish children in the Netherlands aged 4 to 6. Tilburg: Tilburg University Press.
Boeschoten, H. & Verhoeven, L. (1987). Turkish language development of Turkish children in the Netherlands. Proceedings of the Conference on Turkish Linguistics, A. Aksu-Koç & E. Erguvanli-Taylan (Eds.), Istanbul, 1984. Boaziçi University Press, (269-280).
Cummins, J. (1991). Interdependence of first- and second-language proficiency in bilingual children. In: Language Processing in Bilingual Children. (pp. 70-89). E. Bialystock (Ed.), Cambridge: Cambridge University Press.
http://dx.doi.org/10.1017/CBO9780511620652.006
Küntay, A. (1997) Extended Discourse Skills of Turkish Preschool Children Across Shifting Con­texts. Unpublished Ph. D. dissertation, Berkeley.
Kyuchukov, H. (2000) Introducing referents in Turkish children's narratives. Psychology of Language and Communication, 4(1), 65-74.
Kyuchukov, H. (2007) Turkish and Roma Children Learning Bulgarian. Veliko Tarnovo: Faber.
Kyuchukov, H. (2019) Za Mefkure Mollova i neyniyat prinos za izsledvane na turskite dialekti v Bulgaria. [About Mefkure Mollova and her commitment for researching the Turkish dialects in Bulgaria]. Veliko Tarnovo: Faber
Luria, A. R. and Yudevich, F. Ia. (1959) Speech and the Development of Mental Processes in the Child. London: Strapless Press.
Pfaff, C. (1993) Turkish language development in Germany. In: Immigrant Languages in Europe, G. Extra and L. Verhoeven (Eds) Clevedon: Multilingual Matters.
Verhallen, M. and Schoenen, R. (1993) Lexical knowledge of monolingual and bilingual children. Applied Linguistics, 14, 344-363.
Verhoeven, L. (1993) Acquisition of narrative skills in a bilingual context. In: Current Issues in European Second Language Acquisition Research. V. Ketteman and W. Wieden, (Eds). Tübingen: Max Niemeyer.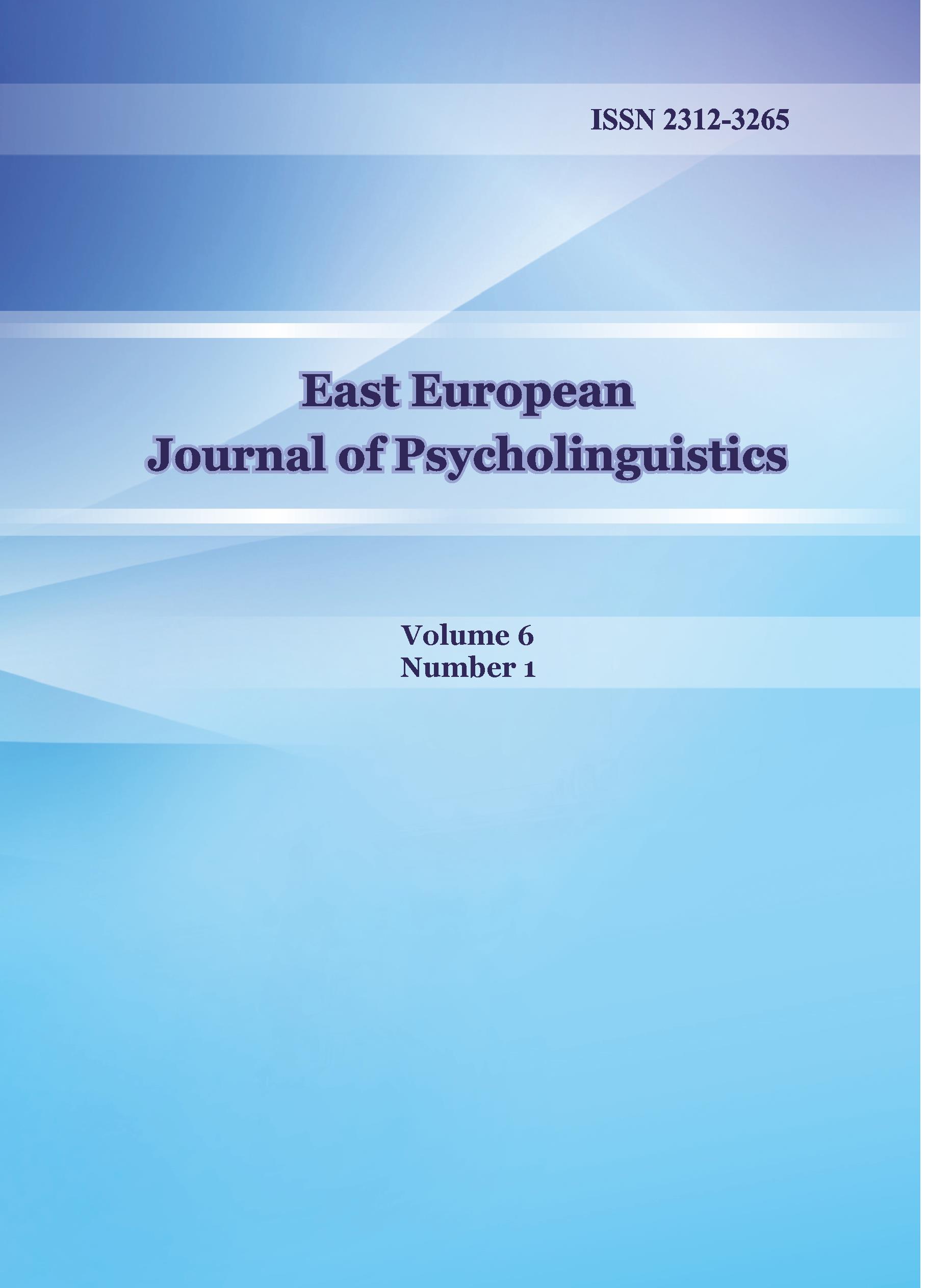 Downloads
How to Cite
Kyuchukov, H. (2019). Acquisition of Turkish Grammatical Categories in Bilingual Context. East European Journal of Psycholinguistics, 6(1), 32–46. https://doi.org/10.29038/eejpl.2019.6.1.kyu
Section
Vol 6 No 1 (2019)