The influence of stress on children's speech in the context of war
Keywords:
post-traumatic stress disorder, speech, verbalization, fear, obsessive-compulsive disorder, speech impairment, cognitive apathy, verbal aggression
Abstract
War is an unbearable and unforeseen burden on the human psyche. Threat to existence, fear for life, loss of loved ones lead to an increase of non-psychotic borderline disorders, including post-traumatic stress disorder. Children represent the most unprotected and vulnerable part of the population. Being in the zone of military conflict, they acquire a tragic experience that deforms their consciousness, their values and outlook. Children experience mood swings, depression, unmotivated aggression, obsessive states, overwhelming fear and anticipation of retelling the experienced events. The article is devoted to the analysis of speech characteristics of children who witnessed the Russo-Ukrainian war, which began on February 24, 2022. The study focuses on the description of the verbalization of the psychological state of a child who witnessed bombings and shelling, children from the occupied territories who had to leave their homes, and children who, not being direct witnesses of military operations, have been forced to live in temporary refugee camps for six months unable to return to their houses. The authors analyze ways of verbalizing fear, anxiety, obsessive states, types of verbal aggression. The article deals also with the influence of parents on overcoming or, vice versa, increasing children's stress.
References
Aziz, A., Vostanis, P. (1999). Post‐traumatic Stress Reactions in Children of War. Journal of Child Psychology and Psychiatry, 40(3), 385-391. https://doi.org/10.1111/1469-7610.00456
Buss, A. H., Durkee, A. (1957). An inventory for assessing different kinds of hostility. Journal of Consulting Psychology, 21(4), 343-349. https://doi.org/10.1037/h0046900
Dimitry, L. (2012). A systematic review on the mental health of children and adolescents in areas of armed conflict in the Middle East. Child: Care, Health and Development, 38(2), 153-161. https://doi.org/10.1111/j.1365-2214.2011.01246.x
Drury, J., Williams, R. (2012). Children and young people who are refugees, internally displaced persons or survivors or perpetrators of war, mass violence and terrorism. Current Opinion in Psychiatry, 25(4), 277-284. https://doi.org/10.1097/YCO.0b013e328353eea6
Dymond, S, Dunsmoor, JE, Vervliet, B, Roche, B, Hermans, D. (2015). Fear Generalization in Humans: Systematic Review and Implications for Anxiety Disorder Research. Behavior Therapy, 46(5), 561-582. https://doi.org/10.1016/j.beth.2014.10.001
Herbert, M. (2006) Posttraumatic stress disorder in children. Leicester: British Psychological Society.
Hill, D.C., Moss, R.H., Sykes-Muskett, B., Conner, M., O'Connor, D.B. (2018). Stress and eating behaviors in children and adolescents: Systematic review and meta-analysis. Appetite, 123, 14-22. https://doi.org/10.1016/j.appet.2017.11.109
Kappen, M., Hoorelbeke, K., Madhu, N. [et al.]. (2022). Speech as an indicator for psychosocial stress: A network analytic approach. Behavior Research Methods, 54, 910-921 https://doi.org/10.3758/s13428-021-01670-x
Karvasarskyi, B. D. (2004). Klynycheskaia psykholohyia. [Clinical psychology]. S.-Petersburg: Piter, 512-516.
Kheirbek, M. A. Klemenhagen, K.C., A. Sahay A. (2012). Neurogenesis and generalization: a new approach to stratify and treat anxiety disorders. Nature Neuroscience, 15, 1613-1633. https://doi.org/10.1038/nn.3262
Lawrence, E., Barry, R.A., Brock, R.L., Bunde, M., Langer, A., Ro, E., Fazio, E., Mulryan, L., Hunt, S., Madsen, L., Dzankovic, S. (2011). The Relationship Quality Interview: evidence of reliability, convergent and divergent validity, and incremental utility. Psychological Assessment, 23(1), 44-63. https://doi.org/10.1037/a0021096
Liu, М., War and Children. (2017). American Journal of Psychiatry, 12(7), 3-5. https://doi.org/10.1176/appi.ajp-rj.2017.120702
Macksoud, M., Dyregrov, A., Raundalen, M. (1993). Traumatic war experiences and their effects on children. International Handbook of Traumatic Stress Syndromes. Herston: University of Queensland, Australia, 625-633. https://doi.org/10.1007/978-1-4615-2820-3_52
Oxburgh G. (2011). Psychology and interviewing: What direction now in our quest for reliable information? British Journal of Forensic Practice, 13, 135-144. https://doi.org/10.1108/14636641111134378
Pearn, J. Children and war. (2003). Journal of Paediatrics and Child Health, 39, 166-172. https://doi.org/10.1046/j.1440-1754.2003.00124.x
Price, J., Kassam-Adams, N., Alderfer, M. A., Christofferson, J., & Kazak, A. E. (2016). Systematic Review A Reevaluation and Rpdate of the Integrative (Trajectory) Model of Pediatric Medical Traumatic Stress. Journal of Pediatric Psychology, 41(1), 86-97. https://doi.org/10.1093/jpepsy/jsv074
Qouta, S., Punamäki, R-L., Miller, T., [et al]. (2008). Does war beget child aggression? Military violence, gender, age and aggressive behavior in two Palestinian samples. Aggressive behavior, 34(3), 231-244. https://onlinelibrary.wiley.com/doi/10.1002/ab.20236
Saign, P. A., Yasik, A. E., Oberfield, R. A., Halaman-Daris, P. V., Bremner, J. D. (2006). The intellectual performance of traumatized children and adolescents with or without posttraumatic stress disorder. Journal of Abnormal Psychology, 115(2), 332-340. https://doi.org/10.1037/0021-843X.115.2.332
Samara, M., Hammuda, S., Vostanis, P., El-Khodary, B., Al-Dewik, N. (2020). Children's prolonged exposure to the toxic stress of war trauma in the Middle East. British Medical Journal, 1-6. https://doi.org/10.1136/bmj.m3155
Slone, M., Mann, S. (2016). Effects of War, Terrorism and Armed Conflict on Young Children: A Systematic Review. Child Psychiatry & Human Development, 47, 950–965. https://doi.org/10.1007/s10578-016-0626-7
Strawn, J. R., Lu, L., Peris, T. S., Levine, A., & Walkup, J. T. (2021). Research Review: Pediatric anxiety disorders–what have we learnt in the last 10 years? Journal of Child Psychology and Psychiatry, 62(2), 114-139. https://doi.org/10.1111/jcpp.13262
Tarabryna, N.V. (2001). Praktykum po psykholohyy posttravmatycheskoho stressa. [Practical course on psychology of post-traumatic stress]. S.-Petersburg: Piter, 240-243.
Trickey, D., Siddaway, A.P., Meiser-Stedman, R., Serpell, L., Field, A. (2012). A meta-analysis of risk factors for post-traumatic stress disorder in children and adolescents. Clinical Psychology Review, 32(2), 122-138. https://doi.org/10.1016/j.cpr.2011.12.001
Yule, W. & Smith, P. (2015). Post traumatic stress disorder. In A. Thapar, D. S. Pine, J. F. Leckman, S. Scott, M. J. Snowling, & E. Taylor, (Eds.). Rutter's Child and Adolescent Psychiatry. (pp. 392-406). Oxford: Blackwell. https://doi.org/10.1002/9781118381953.ch59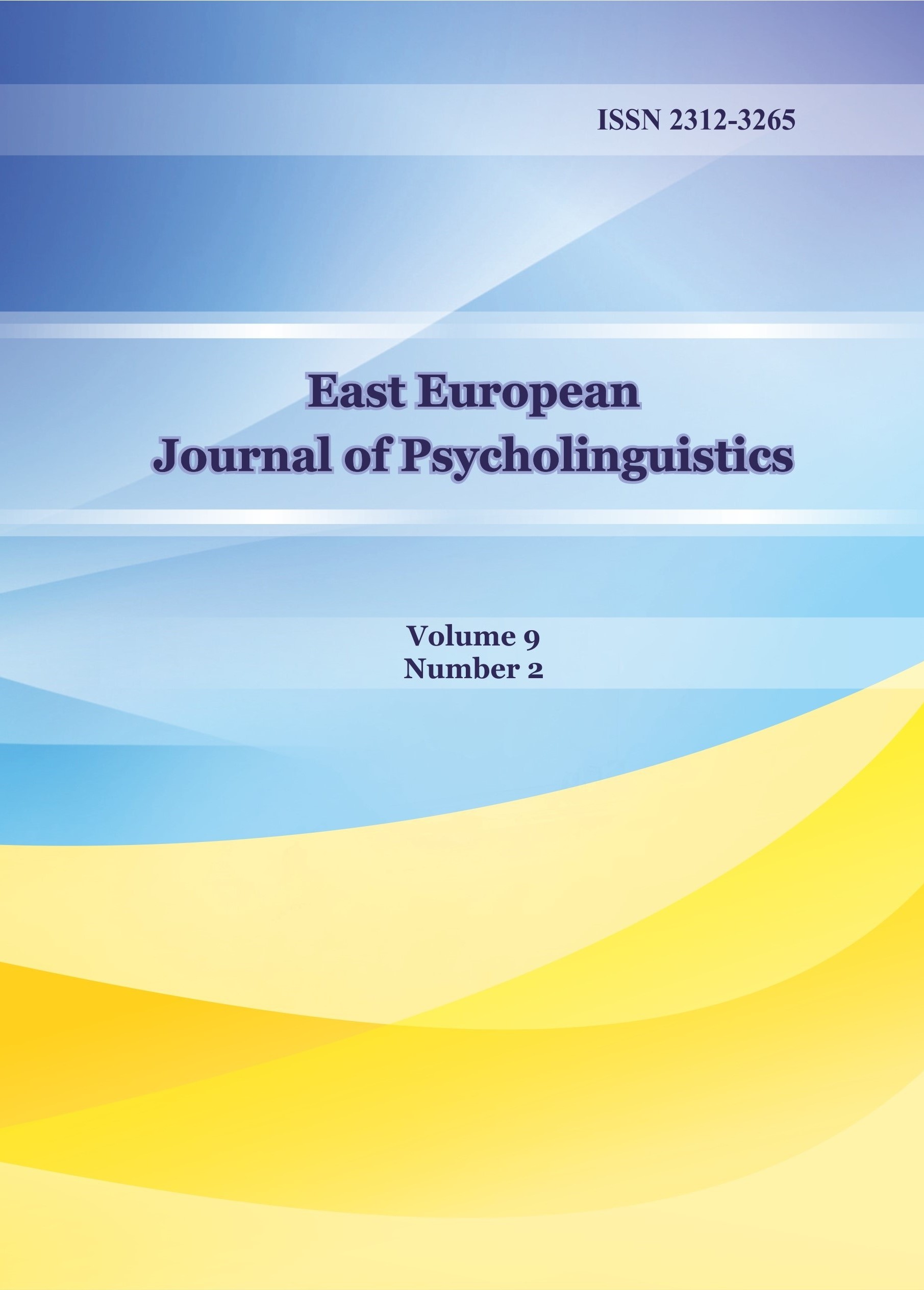 Downloads
How to Cite
Skrypnyk, A., & Labenko, O. (2022). The influence of stress on children's speech in the context of war. East European Journal of Psycholinguistics, 9(2). https://doi.org/10.29038/eejpl.2022.9.2.lab
Section
Vol. 9 No. 2 (2022) Special Issue "Language and War"
License
Copyright (c) 2022 Antonina Skrypnyk, Olha Labenko
This work is licensed under a Creative Commons Attribution 4.0 International License.