Psycholinguistic Meanings of Playfulness
Keywords:
playfulness, psycholinguistic meaning, psycholinguistic experiment, free association experiment, semantic interpretation.
Abstract
The aim of the article is to describe psycholinguistic meanings of the word-stimulus "playfulness" in the linguistic world-image of the Russian-speaking population of Ukraine. The main method of the conducted research was the psycholinguistic experiment. The sample according to the criteria "gender" (males and females – included both age groups) and "age" (18-35 and 36-60) included 1,600 respondents with 400 people in each sub-group of respondents. The overall number of reactions to stimulus "playfulness" comprised 1,600 associative reactions with 475 unique associations including word combinations and sentences, where 159 reactions have frequency over 1,316 individual associations, and 0 refusals. The semantic interpretation of the results of the free association test made it possible to single out 19 psycholinguistic meanings, 12 out of them accounted for more than 1%: 1) "cheerful and joyful state", 2) "intention to attract the attention of the opposite or one's own sex", 3)  "child-like spontaneity", 4) "agility, physical activity of an animal", 5) "daring and provocative behavior", 6) "agility, physical behavior of a human being", 7) "ease", 8) "changeability", 9) "behavior during a sexual intercourse", 10) "carelessness", 11) "mental activity", 12) "deliberate deceit". Taking into account the respondents' verbal behavior, the following components of playfulness were identified: flirting, impishness, humor, fugue (eccentricity), ease, imagination. The formulated psycholinguistic meanings of playfulness can be fully considered as such that give the most adequate and reliable model of the systemic significance of the studied word and which reflects the reality of linguistic consciousness.
References
Barnett, L. A. (2007). The nature of playfulness in young adults. Personality and Individual Differences, 43, 949-958.
Bowman, J. R. (1987). Making work play. In: Meaningful play, playful meanings. (pp. 61-71). G.A. Fine (Ed.), Champaign, IL: Human Kinetics.
Bundy, A. C. (1996). Play and playfulness: what to look for. In: Play in Occupational Therapy for Children, (pp. 52-66). D. L. Parham & L. S. Fazio (Eds.). St. Louis, MO: Mosby.
Chandler, B. E. (1997). The essence of play: a child's occupation. Bethesda, MD: American Occupational Therapy Association, Inc.
Glynn, M. A., Webster, J. (1992). The adult playfulness scale: An initial assessment. Psycho­logical Reports, 71(1), 83-103.
Gordiienko-Mytrofanova, I. V. (2014a). Leksikograficheskoie znacheniie slova "igrivost" (podgo­to­­­vitelnyi etap psikholingvisticheskogo eksperimenta) [The lexicographic meaning of the word "playfulness" (the preparatory stage of the psycholinguistic experiment)]. Psychological Prospects Journal, 24, 65-77.
Gordiienko-Mytrofanova, I. V. (2014b). Psikhologicheskoie soderzhaniie leksikograficheskikh znachenii slova "igrivyi" (podgotovitelnyi etap psikholingvisticheskogo eksperimenta) [The psychological content of the lexicographic meanings of the word "playful" (the preparatory stage of the psycholinguistic experiment)]. Problemy suchasnoi pedahohichnoi osvity – Problems of Modern Pedagogical Education, 45(2), 419-430.
Gordiienko-Mytrofanova, I. V. (2014c). Psikhologicheskaia interpretatsiia leksikograficheskogo opisaniia slova "igrivyi" [Psychological interpretation of the lexicographic description of the word "playful"]. Problemy Suchasnoi Psykholohii – Problems of Modern Psychology, 25, 83-98.
Gordienko-Mytrofanova, I., Sypko, A. (2015). Playfulness as a relevant lexeme in the bilingual linguistic consciousness of Ukrainian people. East European Journal of Psycholinguistics, 2(1), 43-51.
Gordienko-Mytrofanova, I., Sauta, S. (2016). Playfulness as a peculiar expression of sexual relationships (semantic interpretation of the results of the psycholinguistic experi­ment). European Humanities Studies: State and Society, 1, 46-62.
Gordienko-Mytrofanova, I., Kobzieva, I. (2017). Humor as a component of ludic competence. Visnyk [Journal] of the Hryhorii Skovoroda Kharkiv National Pedagogical University, 57, 40-56.
Gordienko-Mytrofanova, I., Kobzieva, I. (2018). Concept «Holy Fool» in the Linguistic World-Image of the Russian-Speaking Population of Ukraine. Psycholinguistics, 24(1), 118-133.
Gordiienko-Mytrofanova, I., Pidchasov, Y., Sauta, S. Kobzieva, I. (2018). The problem of sample representativeness for conducting experimental and broad psychological research. Psycholinguistics, 23(1), 11-46.
Guitard, P., Ferland, F., & Dutil, É. (2005). Toward a better understanding of playfulness in adults. OTJR: Occupation, Participation and Health, 25(1), 9-22.
Kondakov, N. I. (1975). The Logical Dictionary-Reference. Moscow: Nauka.
Proyer, R. T. (2012). A Psycho-linguistic Study on Adult Playfulness: Its Hierarchical Structure and Theoretical Considerations. Journal of Adult Development, 19(3), 141-149.
Proyer, R.T. (2014). A Psycho-Linguistic Approach For Studying Adult Playfulness: A Replication and Extension Toward Relations With Humor, The Journal of Psychology, 148(6), 717-735.
Proyer, R.T. (2017). A new structural model for the study of adult playfulness: Assessment and exploration of an understudied individual differences variable. Personality and Individual Differences, 108, 113-122.
Rudakova, A. V. (2015). On the concept of an integrated lexicographic meaning of a word and the methodology of its description. Culture of Communication and Its Formation: Interuniversity Collection of Scientific Works, 31, 109-115.
Schaefer, C. & Greenberg, R. (1997). Measurement of Playfulness: A Neglected Therapist Variable. International Journal of Play Therapy, 6(2), 21-31.
Shen, X. (2010). Adult playfulness as a personality trait: Its conceptualization, measurement, and relationship to psychological well-being. Doctoral dissertation. Retrieved from Pennsylva­nia State University Library Catalog (OCLC No. 859524715).
Sternin, I.A., & Rudakova, A.V. (2011). Psikholingvisticheskoie znacheniie slova i yego opisaniie [Psycholinguistic meaning of the word and its description]. Voronezh: Lambert.
Tsuji, Hit., Tsuji, Hei., Yamada, S., Natsuno, Y., Morita, Y., Mukoyama, Y., Hata, K., Fujishima, Y. (1996). Standardization of the Five Factor Personality Questionnaire: Factor structure. International Journal of Psychology, 31. Proceedings from the XXVI International Congress of Psychology. August 16–21, 1996, Montreal, Canada. (103-217).
Ufimtseva, N. V. (2009). Obraz mira russkikh: sistemnost i soderzhaniie [Image of the world of Russians: the systemic characteristics and the content]. Yazyk i kultura – Language and Culture, 98-111.
Yarnal, C., & Qian, X. (2011). Older-adult Playfulness: An innovative construct and measure­ment for healthy aging research. American Journal of Play, 4(1), 52-79.
Yue, X. D., Leung, C. L., Hiranandani, N. A. (2016). Adult Playfulness, Humor Styles, and Subjective Happiness. Psychological Reports, 119(3), 630-640.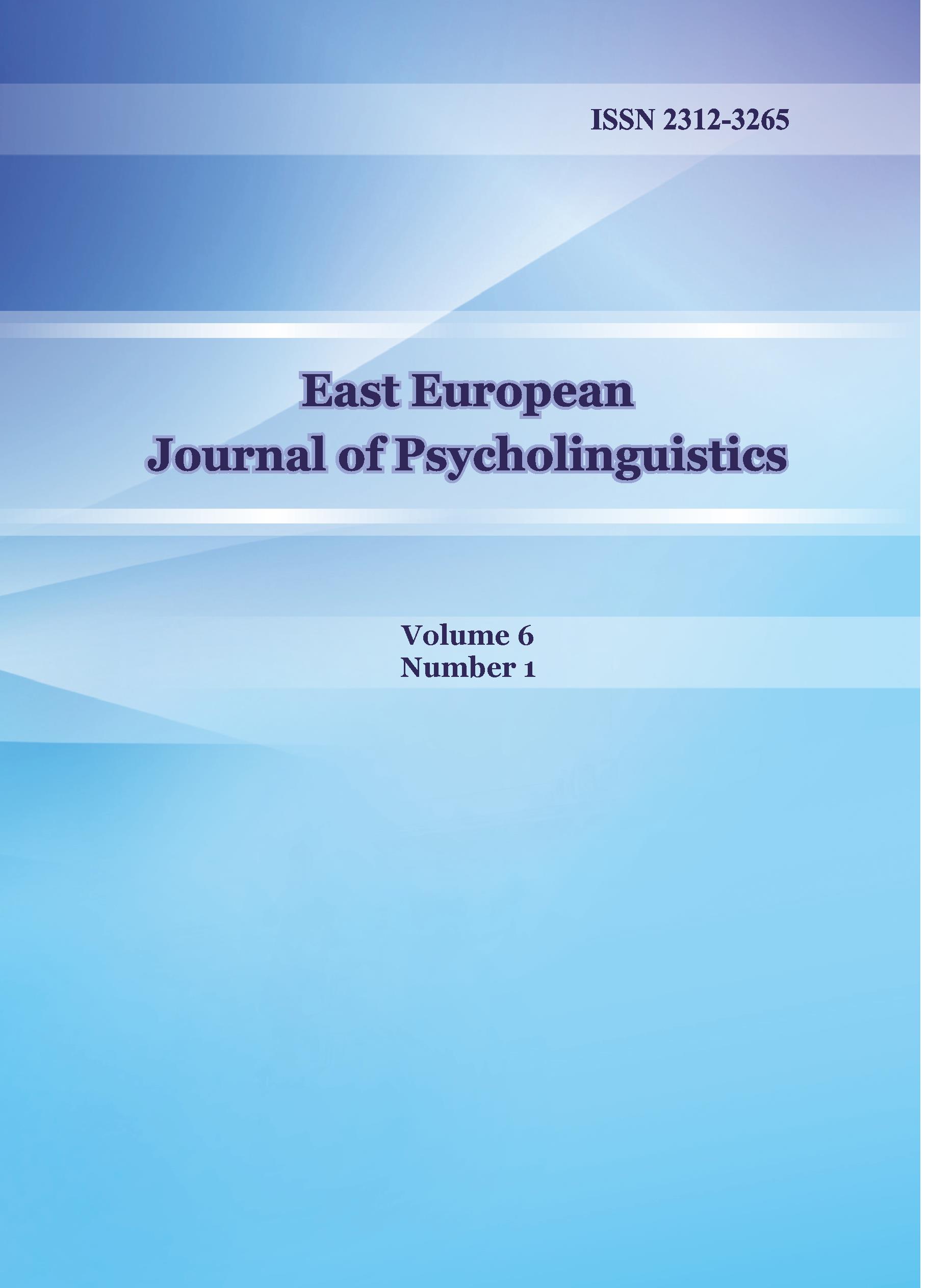 Downloads
How to Cite
Iia Gordienko-Mytrofanova, Iuliia Kobzieva, & Serhii Sauta. (2019). Psycholinguistic Meanings of Playfulness. East European Journal of Psycholinguistics, 6(1), 19–31. https://doi.org/10.29038/eejpl.2019.6.1.gor
Section
Vol 6 No 1 (2019)