Strategies for Determining German Nouns' Gender by College Students
Keywords:
gender of noun, strategies for determining the gender, interference, phonetic, morphological, and semantic principles, the German language
Abstract
The article is dedicated to the study of strategies for determining the gender of nouns of the German language by Ukrainian-speaking first-year-students at the Yuriy Fedkovych National University of Chernivtsi, Ukraine. The purpose of the study is to establish the strategies for determining the gender of nouns on the basis of phonetic, morphological, and semantic criteria and experimentally trace the impact of interlingual and intralingual interference in the process of gender categorization of nouns. The material of the study included 60 nouns, out of which 30 were phonetic equivalents and 30 – semantic ones. Each group contained 10 nouns of the masculine, feminine, and neuter gender, respectively, with the same number of structurally different nouns among them, which were selected according to semantic, morphological, and phonetic rules of gender identification. To identify strategies for determining the gender of German nouns, two psycholinguistic experiments were held with a month interval. The experiments involved 30 first-year-students at the University of Chernivtsi (German department), who had to decide whether the noun gender specified in DMDX program is correct. Thus, the article in half of the given nouns was set incorrectly in the program. The obtained results indicate that the gender of the noun of the native language significantly affects gender determining of the German phonetic equivalent (85% of all mistakes in determining the gender in Experiment 1 and 47% – in Experiment 2). The students also focus on the suffixes or endings of German nouns when choosing the correct gender. Phonetic or semantic rules for determining gender play a secondary role. The gender of a noun in the native language prevents the correct choice of the gender in the German language, which is twice as often recorded for phonetic equivalents.
Downloads
Download data is not yet available.
References
Bewer, F. (2003). Der Erwerb des Artikels als Genus-Anzeiger im deutschen Erstspracherwerb. Studies on the development of grammar in German, Russian and Bulgarian. (pp. 87-140). Berlin: ZAS.
Bordag, D. (2006). Psycholinguistische Aspekte der Interferenzforschungen in der Flexionsmorphologie des Tschechischen als Fremdsprache. Hildesheim: Georg Olms Verlag.
Di Meola, C. (2007). Neutrale Genuszuweisung im Deutschen. Perspektiven Zwei: Akten der 2. Tagung Deutsche Sprachwissenschaft in Italien (Roma, 9.-11.2.2006). Hrsg. von Claudio di Meola, Livio Gaesta & Antonie Hornung. Rom: Istituto Italiano di Studi Germanici. (87-99).
Doleschal, U. (2004). Genus als grammatische und textlinguistische Kategorie. Eine kognitiv-funktionalistische Untersuchung des Russischen. München: Lincom Europa.
Filatova, N. (2007). Ukrainisch im Kontakt mit anderen europäischen Sprachen. Englische, deutsche, russische Entlehnungen im Bereich der Politik. Erlangen-Nürnberg: Universitätsverlag.
Helbig, G. & Buscha, J. (2001). Deutsche Grammatik: Ein Handbuch für den Ausländerunterricht. Berlin: Langenscheidt.
Hunt, J. W. (2018). The gender of anglicisms in spoken German, Word, 64(2), 103-125. https://doi.org/10.1080/00437956.2018.1463002
Kiyko, S. (2017). Faux amis als Interferenzquelle im DaF-Unterricht. Festschrift für Ulrich Steinmüller zum 75. Geburtstag. Hartung, Nicole; Zimmermann, Kerstin (Hrsg.). (pp. 151-172). Berlin: Universitätsverlag der TU.
Köpcke, K.-M. (1982). Untersuchungen zum Genussystem der deutschen Gegenwartssprache. Tübingen: Niemeyer.
Login 1: Deutsch für Germanistikstudenten (2009). O. Sidorow (Ed.). Winnyzja: Nova Knyha.
Menzel, B. (2004). Genuszuweisung im DaF-Erwerb. Psycholinguistische Prozesse und didaktische Implikationen. Berlin: Weißensee.
Onysko, A., Callies, M., & Ogiermann, E. (2013). Gender variation of anglicismsin German: The influence of cognitive factors and regional varieties. Poznan Studies in Contemporary Linguistics, 49(1). 103–36.
Schwichtenberg, B. & Schiller, N.O. (2004). Semantic gender assignment regularities in German. Brain and Language, 90(1–3). 326–37. https://doi.org/10.1016/S0093-934X(03)00445-0
Sperber, H. (1989). Mnemotechniken im Fremdsprachenerwerb mit Schwerpunkt "Deutsch als Fremdsprache". München: Iudicium.
Spitz, E. (1965). Beitrag zur Genusbestimmung der deutschen Substantive. Deutsch als Fremdsprache, 2, 35-43.
Steinmetz, D. (1986). Two principles and some rules for gender in German inanimate nouns. Word, 37(3), 189-217. https://doi.org/10.1080/00437956.1986.11435777
Steinmetz, D. (2006). Gender shifts in Germanic and Slavic: Semantic motivation for neuter? Lingua, 116, 14–40.
Zubin, D.A. & Köpcke, K.-M. (1984). Affect classification in the German gendersystem. Lingua, 63, 41–96. https://doi.org/10.1016/0024-3841(84)90031-7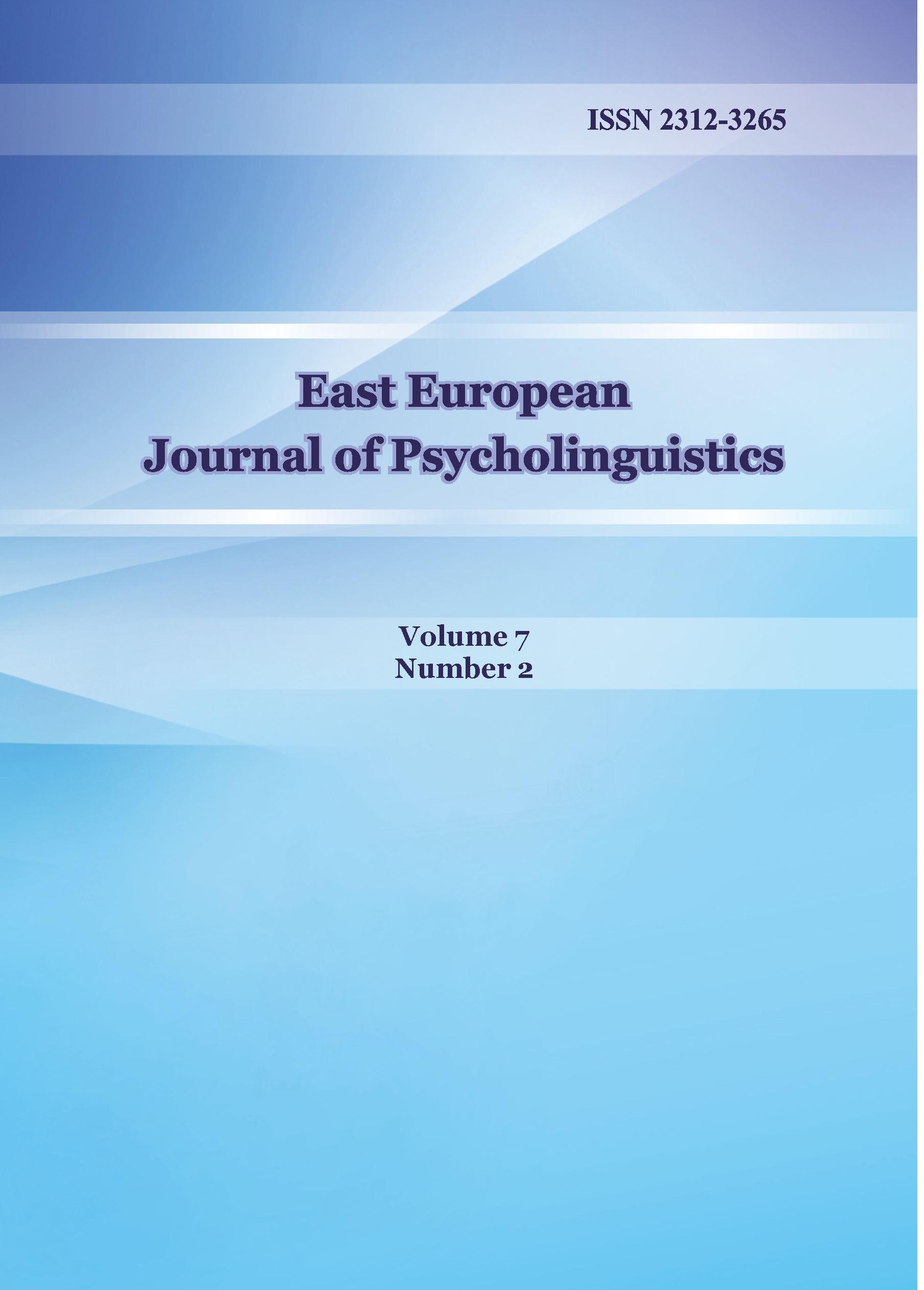 Downloads
How to Cite
Kiyko, S., Kiyko, Y., & Drebet, V. (2020). Strategies for Determining German Nouns' Gender by College Students. East European Journal of Psycholinguistics, 7(2). https://doi.org/10.29038/eejpl.2020.7.2.kiy
Section
Vol 7 No 2 (2020)